Set in the rolling hills of the beautiful Somerset countryside, North Cadbury Court invites guests and visitors to make music together. By Percussion Play
North Cadbury Court, a luxurious 16th century country house based in Somerset in the beautiful south west of England, has recently introduced outdoor musical instruments for visitors and guests to play when exploring their extensive grounds.
With a 700 year history, North Cadbury Court has changed and evolved significantly since its construction as a medieval hall in the 1300s. In the 15th century, the court became a college for priests. During the Second World War, a London nursery was evacuated into the house, apparently responsible for some of the stains on the ballroom floor! After the war, a large part of the house was lent to the YMCA as part of a scheme to train under privileged city boys who wanted entry into farming. Today it can be enjoyed by all with it being available for weddings, holidays and business conferences.
The home of the Montgomery family for the last century, famous for their award winning Cheddar cheese, the Court has recently installed several instruments from Percussion Play for visitors of all ages to enjoy together. Archie Montgomery first saw Percussion Play's instruments at a conference and was inspired to include them at his home. Archie and his wife, Janet, visited Percussion Play to see the instruments and quickly realised they would make a great addition to the lively and dynamic house. The house includes a nine hole golf course, where the first tee is on the rooftop!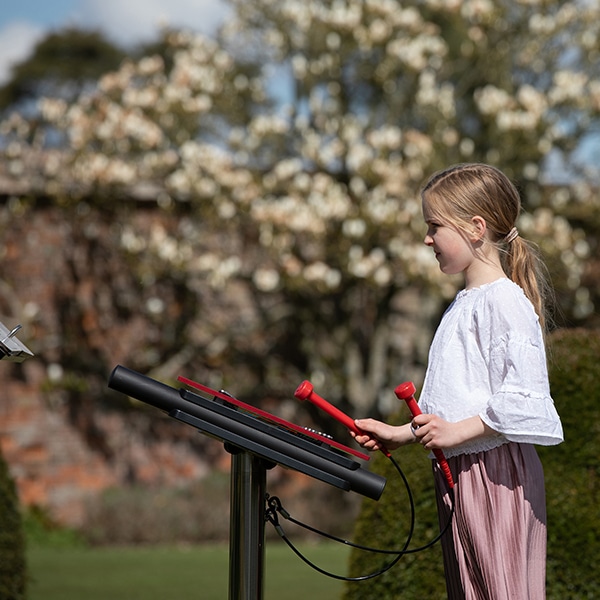 Archie sadly passed away last year, but visitors enjoy the collection of instruments inspired by him, and Janet is happy to hear the gentle sounds of the instruments.
Janet says: "Archie was looking for new ideas to bring to the house that would add some dynamism and these instruments are perfect. People can play some rather lovely tunes on the instruments, which resonates within our rural setting – we have positioned them in the garden but close to the house so people can enjoy the sounds".
Janet says the instruments have been a hit with children. They provide an activity that all can enjoy, and they're particularly popular with children at weddings.
Janet says: "We have nothing but praise for them. It's lovely to see families enjoy them together. The children go out and enjoy playing on them with their parents and grandparents; it is a way of getting people together. We positioned three instruments in a group so they can be played together and individually."
Since Archie's passing, the Babel drum has been engraved with the words "always look on the bright side of life", to memorialise him.