This article first appeared in The Times on 15th July 2023.
Paige Caridi, 29, a senior associate at a private equity firm, and Richard Hogarth, 31, vice president of the leveraged finance team at an investment bank, were married on April 1st 2023 at St Michael the Archangel church in North Cadbury, Somerset.
As rain poured down and Paige took shelter under an umbrella, Richard wondered if he had done the right thing inviting his Texan bride to marry in the English countryside in April. "It made it very authentic," she says cheerfully.
Somerset is a special place for Richard, who lived between there and London until the age of seven when his family moved to Canada, where his father is from. His mother is English. They are friends of the Montgomery family who turned North Cadbury Court, a grade I listed, 16th-century house, into a luxury venue where he and Paige married.
As children, Richard and his siblings would run through North Cadbury Court, pre-renovation, fighting cobwebs. His parents married at St Michael the Archangel church, near to North Cadbury Court, in 1989. His maternal grandparents are buried in the churchyard.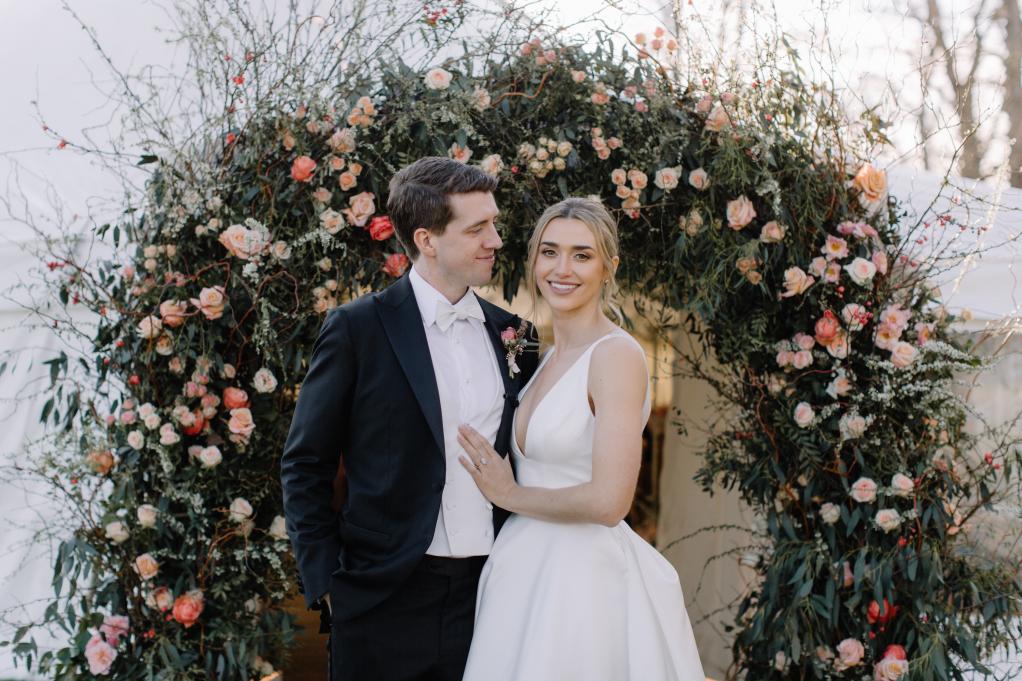 Photographs by Rebecca Goddard Photography
Richard's family continued to visit England often and North Cadbury Court was his first choice of venue when Paige suggested a destination wedding, particularly as it was a favourite place of Richard's late younger brother, Jack. The couple made a 24-hour trip last August for her first visit. "I was in love with it right away," she says.
Paige and Richard met working for an investment bank in New York in 2018. She joined after he did, and at the time was on crutches after a ski accident. "I could hear the crutches, then there was this beautiful lady walking on to the floor," he says. "No one knew who she was. There was a lot of excitement."
Their paths crossed at a work event where Paige had perched herself next to a food table. "Richard came over and started small talk with me," she says. "He was a lot more artistic than the finance bros among us. He was warm and chatty."
They would go for drinks as part of a group until they were the last two remaining, but were cautious about risking rejection and still working together. Seven weeks passed before they exchanged phone numbers. "We would go to the movies and he wouldn't ever make a move," she says. "I was kind of confused and wondering 'Does he even like me?' But he kept asking me out."
Finally, after playing the drinking game beer pong at a bar, she asked if he was going to kiss her. "He denied me," she says. "And I stormed off." She texted him the next day and he was able to explain that it was not the right time. He invited her to dinner and they kissed outside a cinema.
Paige made it clear that if anyone at work found out, the relationship was off. Richard is a joker and would quiz her in front of colleagues in the lift at work about her weekend, which they had spent together. They even planned for Paige's friend to pretend to be his girlfriend if they were out as a group and bumped into colleagues.
They kept it a secret for two years and then had a "coming out" party for their workmates. Paige now works for a different company. They are big music fans and enjoy concerts. She appreciates his care and commitment towards friends and family. "He makes me more fun," she says. "I make him more grounded."
During the pandemic, they lived with Paige's mother in Austin, Texas, along with Paige's older sister, Olivia. A year later, on returning to New York, they rented an apartment together. Soon, Olivia, who is doing an MA in New York, joined them. They have a balcony overlooking the Hudson River on which Richard proposed in July last year. His older sister, Lauren, who is a jewellery maker, made Paige's engagement ring. Friends had helped to decorate their apartment with flowers and candles.
Paige sensed something was up on returning from drinks with friends. Richard was nervous. "I started speaking backwards and dropped to one knee," he says. It came as a complete surprise to Paige.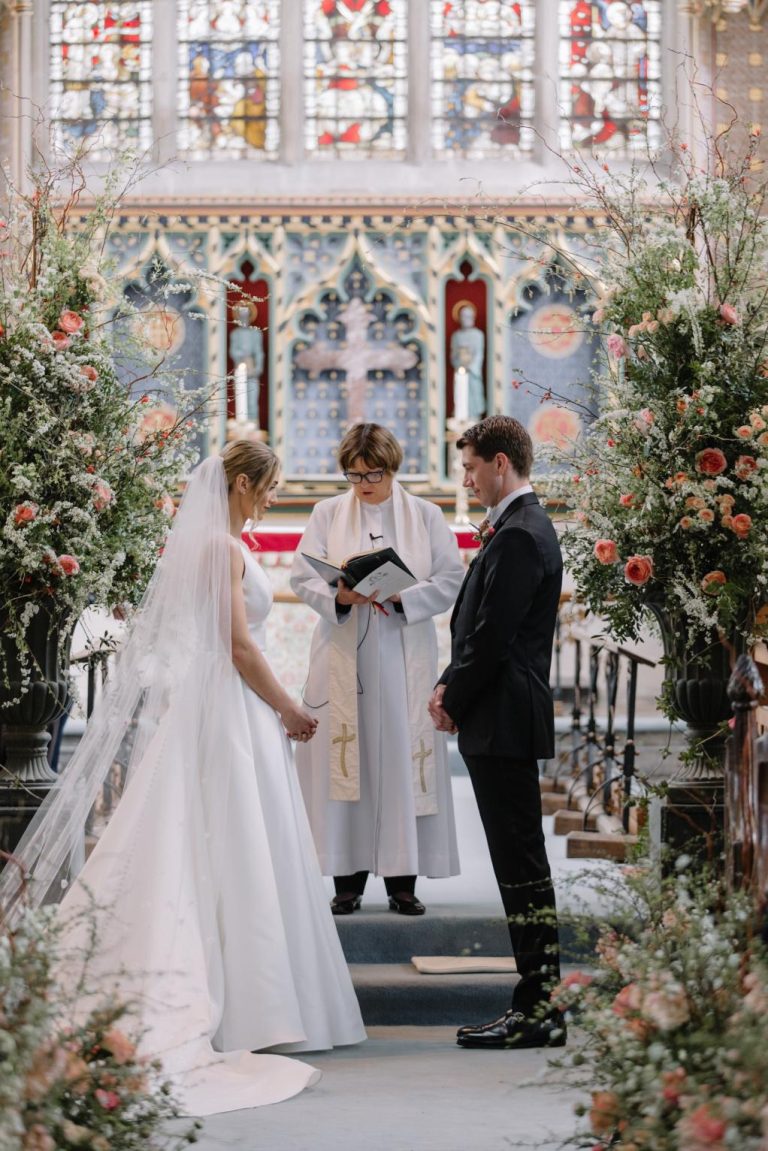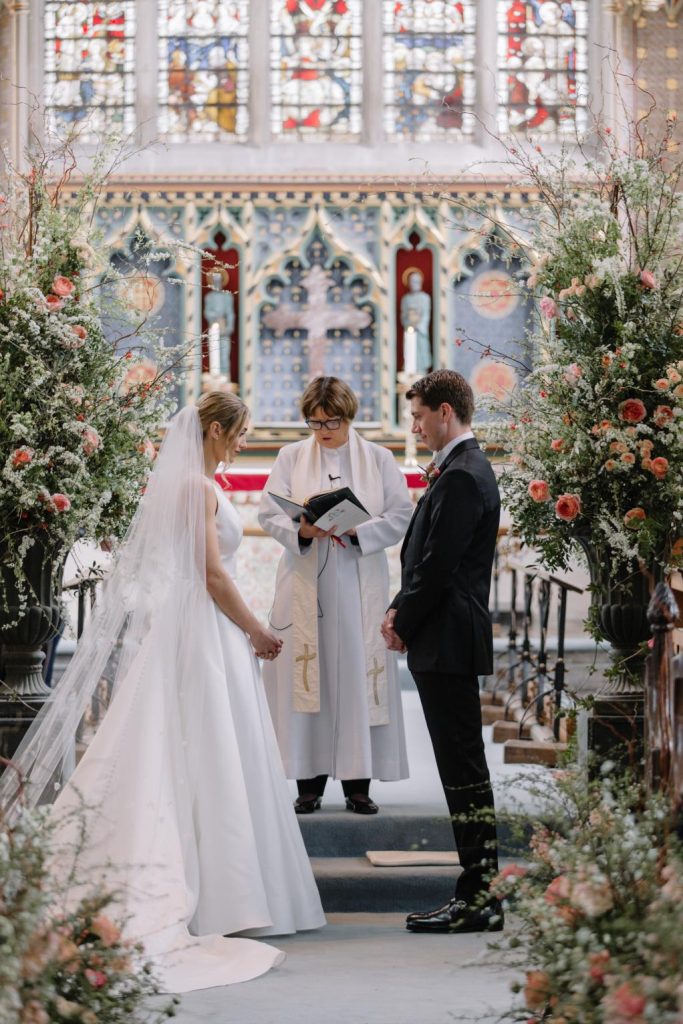 The couple hired a planner, Helen Vernon at Punch Events, to create their English wedding. Fun for their 185 guests included a welcome party in the ballroom, a rooftop golf tee and a private tour of The Newt in Somerset, a working estate and hotel with a recreation of a Roman villa. The flowers were by Fleur Provocateur. Church bells rang for the 3pm ceremony. There was a string quartet and a choir sang Elton John's Your Song. The rain stopped and sun streamed through the stained glass window. Margaritas, Paige's favourite drink, were served before dinner, in a setting surrounded by pastel flowers. The newlyweds' first dance was to Josh Turner's Your Man — a nod to Paige's love of country music.
"Paige is so sure about herself — so grounded — but not in an arrogant way," says Richard. "She has been a brave rock for me and is someone I couldn't live without."
Read the full article here.